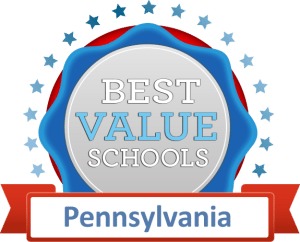 By Iris Stone
Looking for a top college in Pennsylvania? This ranking will serve as your go-to resource for high value, low cost schools in the state. And Pennsylvania has plenty to offer in terms of higher education - it provides easy access to city hot spots like New York; Boston; Washington, D.C.; and of course Pennsylvania, and it's home to some of the best-ranked universities in the country, from the UPenn to Carnegie Mellon.
For a look at the top online offerings in PA, see Best Value Online Colleges and Universities in PA.
Best Colleges in PA for 2020
| Rank | University | Location |
| --- | --- | --- |
| #1 | University of Pennsylvania | Philadelphia, PA |
| #2 | Curtis Institute of Music | Philadelphia, PA |
| #3 | Lafayette College | Easton, PA |
| #4 | Swarthmore College | Swarthmore, PA |
| #5 | Haverford College | Haverford, PA |
| #6 | Carnegie Mellon University | Pittsburgh, PA |
| #7 | Lehigh University | Bethlehem, PA |
| #8 | Bucknell University | Lewisburg, PA |
| #9 | Lincoln University | Lincoln University, PA |
| #10 | Franklin and Marshall College | Lancaster, PA |
When thinking about where to go to college, it's important to keep in mind that there's no one, perfect choice for everyone. Not only that, but it might not be possible to find a college that checks off every last item on your wish list. That's because the very best schools in terms of academics and athletics often unavoidably come with a higher price tag, or they sacrifice another want, like small class sizes. But even when it comes to compromising, there are some deals that are better than other. And that's what we bring to you: a list of Pennsylvania colleges that provide a blend of affordability, accessibility, and quality that will appeal to most applicants.

Methodology
We determined the ranking as follows:
Graduation Rate: Defined as the number of students who complete their degree within 150% of "normal time" (i.e. six years for a four-year program), graduation rate provides a good indication of a college's ability to keep students on track and engaged during their studies. We collected this information from College Navigator and weighted it 25% of the total score.
Net Price: Unlike tuition, net price offers a more representative idea of what a student might pay for college. It takes into account everything from room and board expenses and cost of living to average scholarship and financial aid packages, and of course tuition (using in-state rates for public universities). We collected this information from College Navigator and weighted it 35% of the total score.
Acceptance Rate: This statistic indicates the percentage of students who were accepted to the university out of all those who applied. It is generally taken as an indicator of both the school's selectivity and its popularity, as schools that receive more applications generally have lower acceptance rates, with some exceptions. We collected this information from College Navigator and weighted it 25% of the total score.
20-Year R.O.I.: "Return on Investment" refers to the amount of money a student will recoup after graduating college, determined by calculating the average salary of graduates and subtracting the four-year cost of tuition. This figure provides an approximation of how much money graduates from any particular university can expect to make in the 20 years after graduation, and serves as an accurate representation of the school's career preparation abilities and students' success post-grad. We collected this information from PayScale and weighted it 15% of the total score (weighted less than other categories because this information was not available for all colleges).
When all was said and done, we tallied the points and gave each school a score out of 200. No schools received a perfect score, and we wouldn't expect them to (see the point about compromise above). But the following 30 colleges will undoubtedly bring you value: they all excel in various areas of academics, athletics, research, and extracurriculars, and more than half boast an annual net price less than $23,000 a year.
---
30. Dickinson College
Carlisle, Pennsylvania
A commitment to "informed empathy" makes Dickinson College a good contender for students looking to "engage the world"—the school motto. Fittingly, more than 60% of each graduating class studies abroad during their time at Dickinson and the school ranks eighth among small schools that send graduates to the Peace Corps. The student/faculty ratio is an astounding 9-to-1. Perhaps this intimate atmosphere is a reason for Dickinson's graduation rate: An incredible 84% —one of the highest in the state. Concerned about the price tag of your investment? While Dickinson may not be front of the line for cheap colleges in Pennsylvania, Bloomberg Businessweek calls it one of its "Holy Grail" schools noted for its high return on investment.
Net Price: $33,457/yr
Total Score: 71.57
29. Gettysburg College
Gettysburg, Pennsylvania
Gettysburg College is another small liberal arts school with a lot of character and a sky-high graduation rate, again clocking in at 84%. Before you dismiss the idea of attending a small-town college, you may want to think twice. First, the college is notable for its Civil War Institute & Civil War Era Studies program—including a one-of-a-kind "immersion" semester. Not a history buff? Gettysburg offers small class (average size: 18), 24 varsity sports, an organic garden known as the Painted Turtle Farm, and the Gettysburg Recreation Adventure Board, which sends students on trips across the country (and the world). Among top Pennsylvania colleges, you'll be hard pressed to find one with quite so much personality as Gettysburg.
Net Price: $33,343/yr
Total Score: 74.66
28. Albright College
Reading, Pennsylvania
If you choose to attend Albright College, one of the more affordable colleges in Pennsylvania, you can expect to be in the company of some high achievers. Approximately two-thirds of students at Albright graduate with a double or, yes, even a triple major. In the classroom, the school offers an array of interesting disciplines to pursue such as Digital Video and Studio Arts; Fashion; Holocaust Studies; and Music Industry Studies. Outside the classroom, students get an opportunity to attend lectures, concerts, theater, and various exhibits as well as participate in the 70 student organizations on campus. Although the school maintains an affiliation with the United Methodist Church, today the school is a vibrant, multi-faith community that welcomes students from all backgrounds.
Net Price: $21,497/yr
Total Score: 78.55
27. Bryn Mawr College
Bryn Mawr, Pennsylvania
Bryn Mawr, the first women's college to award degrees at the doctoral level, continues to build on this legacy of opening doors for women in academia—and as one of the best colleges in Pennsylvania. Bryn Mawr is notable for another first dating back to 1892: The Self-Government Association (SGA). The student-run SGA is responsible for devising and enforcing rules on campus. One thing's for sure: You won't find this sort of unique community just anywhere. And you won't find an 82% graduation rate just anywhere, either. Bryn Mawr's one-of-a-kind campus and stand-out academic programs—including the new multi-disciplinary 360 º approach—merit some serious consideration.
Net Price: $32,285/yr
Total Score: 85.01
26. Washington and Jefferson College
Washington, Pennsylvania
Next on the list is Washington and Jefferson College, another small school with a similarly sized student body (1300 students) and a nearly identical student/faculty ratio (10-to-1). In terms of cost, 98% of students receive financial assistance and the annual average financial aid package for freshmen was $30,100. Nestled in southwest Pennsylvania, Washington and Jefferson offers students a tight-knit, inclusive campus just a 40-minute drive from Pittsburgh. Even though the school is small, don't worry about limiting yourself in terms of your major; the school offers unusual degrees in areas like Arabic, Professional Writing, Conflict and Resolution Studies, Chinese, and Russian Area Studies. And, among the faculty, 97% of tenure/tenure-track faculty members have terminal degrees in their field.
Net Price: $21,747/yr
Total Score: 85.38
25. Seton Hill University
Greensburg, Pennsylvania
Seton Hill University was founded by the Sisters of Charity of Seton Hill with the mission "to fit you for that world in which you are destined to live." At Seton Hill, you can take advantage of numerous outdoor activities such as kayaking, camping, skiing, and white water rafting. If the outdoors isn't your thing, the school is conveniently located next to a train station for a big city weekend getaway. The school boasts a 95% career/graduate school placement rate, making it a standout among the top colleges in Pennsylvania. Seton Hill also boasts an appealing 20-year ROI of $467,000—talk about a solid investment.
Net Price: $21,747/yr
Total Score: 85.76
24. Lancaster Bible College
Lancaster, Pennsylvania
Lancaster Bible College, a great option among cheap Pennsylvania colleges, is serious about its commitment to educating students in and out of the classroom. Students travel to countries such as South Africa, Ireland, the Dominican Republic, and India to learn and serve alongside missionaries in the field. Accordingly, the school seeks to imbibe students with an "understanding and appreciation of and compassion toward cultures of the world." With the mission of educating students "to think and live a biblical worldview" in Church and in society, many of the academic tracks offered include areas explicitly related to the school's Christian identity—such as Worship Arts and Pre-Seminary. LBC's Worship & Performing Arts program offers many opportunities for students to get involved.
Net Price: $18,982/yr
Total Score: 86.52
23. Rosemont College
Bryn Mawr, Pennsylvania
Want to get your degree done sooner? And get a good return on your investment? Rosemont may be a good option for you. This Catholic college, located in greater Philadelphia, offers you a chance to finish your program in three years, saving you time and a full year of tuition. Students accepted in the program not only graduate early, they also benefit from faculty mentorship and enhanced advising to help keep them on track in their studies. Even if you don't picture yourself graduating in three years, there's good news on the financial front for just about everyone: Not only do nearly 100% of students receive financial aid, the average 20-year return on your tuition is a respectable $366,400.
Net Price: $19,287/yr
Total Score: 89.41
22. Wilson College
Chambersburg, Pennsylvania
If you love horses, you may find the perfect fit in Wilson College. The school, set on 300 acres of land in rural Pennsylvania, is a horse-lover's dream. Not content to have six equestrian teams, you can also pursue equine-related programs including Equine Studies, Equine Facilitated Therapies, Equine Journalism, and Veterinary Medical Technology. Additionally, Wilson provides a unique program for single mothers who want to attend school full-time. Women with children over 20 months old can stay on campus year-round and the school provides daycare for children from 20 months to five years in age. A 9-to-1 student/faculty ratio and USDA-certified organic farm are two more highlights that make Wilson stand out as one of the best Pennsylvania colleges around.
Net Price: $20,955/yr
Total Score: 91.18
21. Chatham University
Pittsburgh, Pennsylvania
Recognized by Forbes for its role in the greening of Pittsburgh, Chatham went a step further in 2008 by designing an emissions-free campus situated on a 388-acre parcel of land 20 miles north of its primary campus. In addition to emitting zero carbon waste, the new campus also manages storm water on site and generates its own electricity. Although the school is fully co-ed today, its roots as a women's college are still apparent with programs such as the Center for Women's Entrepreneurship, the Pennsylvania Center for Women and Politics, and the Chatham University Women's Institute. Today—for men and women alike—this innovative, forward-thinking school has earned a place among the best universities in Pennsylvania.
Net Price: $16,979/yr
Total Score: 94.10
20. Bryn Athyn College of the New Church
Bryn Athyn, Pennsylvania
Bryn Athyn offers one of the lowest student/faculty ratios on the list, coming in at 8-to-1. The campus, a mere 14 miles to the north of Philadelphia, prides itself on mutual respect and the diversity and uniqueness of its student body. Students today build on the school's long tradition in the performing arts through Dance Ensemble, BAC A Cappella, musicals, plays, and Bryn Athyn ROCKS!, a collaborative rock group composed of both students and faculty. The college, affiliated with the New Church, does not require students to be part of this Christian denomination but does emphasize the importance of "charity toward the neighbor" and encourage students to lead spiritually attuned lives.
Net Price: $14,154/yr
Total Score: 94.35
19. Slippery Rock University of Pennsylvania
Slippery Rock, Pennsylvania
Slippery Rock University has a wealth of 150 majors and minors for you to choose from—including Adventure Fitness, Literary, Film, and Cultural Studies; Adapted Physical Activity; and Environmental Geosciences. You can also find a wealth of opportunities to distinguish yourself and gain valuable experience working with faculty in various research areas. The Center for Student Research is your go-to resource for such activities, and it also hosts an annual Student Symposium for Research. If it's an international experience you're after, consider one of more than 20 semester-long programs sponsored by SRU in 17 countries.
Net Price: $15,471/yr
Total Score: 97.58
18. Temple University
Philadelphia, Pennsylvania
As one of the top universities in Pennsylvania, Temple has so much to offer: Nearly 150 majors to choose from; state-of-the art "smart" classrooms; study abroad opportunities in Ghana, the United Kingdom, India, Jamaica, Spain, and elsewhere; 300 students organizations; 31 fraternities and sororities on campus; collaboration with world-class faculty on ground-breaking research; and much more. Temple also offers a competitive ROI of $325,000 over 20 years. When you're not in the classroom, Free Food and Fun Fridays brings entertainment to you. But then again, in the heart of Philadelphia, who can get bored?
Net Price: $19,435/yr
Total Score: 99.55
17. Villanova University
Villanova, Pennsylvania
Do you like stats? Even if you don't, Villanova University might have a few that you'll like: 89% graduation rate. 97% of graduates find employment or start a grad program within six months of graduation. The average starting salary for a Villanova grad is $54, 345. Over time, that translates to a 20-year ROI of $440,100. This school offers a lot of bang for your buck. That's probably why people come from nearly all 50 states and just as many foreign countries choose to attend one of the best universities in Pennsylvania. This university is an especially good choice for aspiring business leaders and engineering professionals; both the School of Business and College of Engineering have been recognized nationally. Villanova's campus is located just outside of Philadelphia, providing a comforting balance between quiet suburban life and the hustle and bustle of the city.
Net Price: $32,704/yr
Total Score: 100.02
16. University of Pittsburgh
Pittsburgh, Pennsylvania
On the other side of the Keystone State, the University of Pittsburgh is another one of Pennsylvania's best research universities. In fact, the Academic Performance Research Laboratory ranked Pitt 16th nationally and 7th among public universities. Still, Pitt is more than a research school. As one example, the school sponsors a yearly Studio Arts Field Study in the Wyoming wilderness where participants can explore nature and take the inspiration from the encounter to produce prints, photos, drawings, sculpture, and other artistic works. It's also worth noting that Pitt boasts an 82% graduation rate and, for military students, Victory Media recognizes the university as among the top military-friendly schools in America.
Net Price: $23,489/yr
Total Score: 100.79
15. Millersville University of Pennsylvania
Millersville, Pennsylvania
Millersville University is located just outside Lancaster, a scenic corner of Pennsylvania known for its charming shops, plentiful dining options, buggy rides, breweries and more. Millersville, with about 7,000 undergraduates, is part of the Pennsylvania State System of Higher Education and is recognized by U.S. News & World Report as one of the top 10 public universities in the region. MU offers more than 100 undergraduate programs including Water Resources; Sports Journalism; Ocean & Coastal Studies; Nanotechnology; and Meteorology. Among the faculty, 98% have a terminal degree. Millersville—with a price tag just of $14,418 and a $212,800 ROI over 20 years—is a competitive choice as you weigh cheap colleges in Pennsylvania.
Net Price: $14,418/yr
Total Score: 102.10
14. York College Pennsylvania
York, Pennsylvania
Since its founding in 1787, York College has developed a strong reputation as one of the top colleges in Pennsylvania. A relatively recent development on campus is WVYC, the school's award-winning radio station, which is a main attraction for students interested in journalism and media. Interested in technology? The brand new J.D. Brown Center at York College is providing new opportunities for students to devise creative solutions for software problems. Some of the majors popular among the school's 4,600 students include nursing, biology, sport management, criminal justice, and education. When you're not in class, you can see what the Campus Activities Board has planned or get involved in one of the school's 22 intercollegiate sports or 20 intramural programs.
Net Price: $21,120/yr
Total Score: 102.30
13. Cedar Crest College
Allentown, Pennsylvania
Cedar Crest College—located in Allentown, a mid-size city of over 100,000—is the second women's college on our list and one of the most affordable colleges in Pennsylvania. As you get to know the school during your freshman year, First Year Fridays will help you get plugged in with film showings, speakers, and trips around the region. Another great resource for students is the Women's Leadership Office (WLO). With the vision of developing women to become leaders with integrity and confidence, the WLO allows students to network and become active in the region.
Net Price: $17,981/yr
Total Score: 102.36
12. West Chester University of Pennsylvania
West Chester, Pennsylvania
West Chester University, one of the top universities in Pennsylvania, is the largest in the school's State System of Higher Education with a student body of approximately 16,000. With a multitude of disciplines from which to choose, a competitive price tag, and a solid 20-year ROI ($256,300), WCU is a smart choice no matter who you are. But there's more! WCU offers 225 student organizations, 24 NCAA Division II intercollegiate teams—of which field hockey, lacrosse, and baseball have all recently claimed titles—and numerous service opportunities. Want proof? WCU students logged an astounding 600,000 hours of community service from West Chester to South Africa in the span of one school year.
Net Price: $18,792/yr
Total Score: 108.81
11. Pennsylvania State University Main Campus
State College, Pennsylvania
Pennsylvania State University is one of the biggest names in public education, offering its graduates the benefit of more than 500,000 connections worldwide. In fact, the school's alumni network claims to be the largest in the United States. Every year, Penn State welcomes students from all 50 states and more than 100 countries. Its undergraduate programs include such unique options as Russian Translation and Turfgrass Science, in additional to all the traditional areas of study. Plus, the school dedicates $805 million every year to research in more than 20 fields and encourages students to get involved. When you consider the facts—including an average $446,900 return on your money over 20 years—Penn State makes a lot of sense…and cents!
Net Price: $24,220/yr
Total Score: 109.55
10. Franklin and Marshall College
Lancaster, Pennsylvania
Franklin and Marshall College, which boasts a more than 200-year history in education, attracts students who are interested in hands-on learning and immersive experiences. F&M students enjoy small class sizes and professors who are constantly thinking of new ways to get them out of the classroom and expand their horizons. Research is an essential part of study at Franklin and Marshall College - at least 50% of seniors engage in some sort of independent research or self-designed project. Compare this to other liberal arts schools, where less than a third of students participate, and it's easy to see why F&M is one of the best colleges in Pennsylvania. The school also emphasizes a quality it calls "connections," which encourages students to collaborate with peers in other majors and identify links between disciplines.
Net Price: $22,974/yr
Total Score: 110.86
9. Lincoln University
Lincoln University, Pennsylvania
The history of Lincoln University dates back to the mid-1800's, when John Miller Dickey established Ashmun Institute as the very first college in the world dedicated to educating African American men. Eventually the school took on the name of President Abraham Lincoln and opened its doors to women as well. The university continues to welcome an interracial, international group of students to campus each year and has produced a list of impressive alumni, including Langston Hughes and Thurgood Marshall. Undergraduate programs include all the basics, such as Biology and History, as well as more contemporary degrees in Environmental Science, Information Technology, and Mass Communications.
Net Price: $14,694/yr
Total Score: 115.56
8. Bucknell University
Lewisburg, Pennsylvania
Bucknell University bucks the stereotypes of a traditional liberal arts college, offering a much wider selection of majors than you'd find at most small schools. Academic options include Animal Behavior, Global Management, Biomedical Engineering, Environmental Geosciences, East Asian Studies, and much more. Similarly, BU offers a cornucopia of activities outside the classroom, from Greek life to student government. Artists can find their niche with the Bucknell Opera Company or the Gallery Engagement Team, while social butterflies can apply for the first-year "Building on Foundations" teambuilding activities or go on a wilderness excursion known as "BuckWild."
Net Price: $27,848/yr
Total Score: 117.78
7. Lehigh University
Bethlehem, Pennsylvania
Lehigh University is one of the largest private schools in the country, taking claim to more than 2,300 acres of beautiful woodlands and manicured lawns. But that's not the only way this top Pennsylvania college has made a "big" impact; Lehigh supports nearly 7,000 students and has built an international reputation for its contributions to academic research. And yet despite its stature, the university maintains a small school feel for students who are looking for something a little cozier. Lehigh puts an emphasis on inclusivity in all its affairs, and students practice kindness and compassion in Greek life, community service, and religious organizations. And this approach seems to pay off - nearly 90% of graduates earn their diploma within six years.
Net Price: $27,848/yr
Total Score: 122.33
6. Carnegie Mellon University
Pittsburgh, Pennsylvania
Carnegie Mellon University's distinguished reputation in research, science, and engineering makes it a powerhouse in STEM education on the East Coast. Students choose CMU for its unparalleled academic experience, which features small class sizes and experienced professors (96% of whom have PhDs). Whether you're looking for a degree in computer science or robotics, you can't go wrong with CMU - it even has campus in Silicon Valley! In general, the university has established itself as an advocate for innovation, an attitude that has fostered growth in its business and economics departments. In fact, it is one of just 25 universities to be a member of the World Economic Forum's Global University Leaders Forum, and you'll find the CMU name behind more than 1,000 startups and entrepreneurial ventures.
Net Price: $33,670/yr
Total Score: 122.75
5. Haverford College
Haverford, Pennsylvania
If you're looking for a challenging academic experience that will push even the smartest students to their limits, consider Haverford College. One of the best colleges in Pennsylvania, HC accepts only the brightest students and has an acceptance rate of just 25%. The pristine, wooded campus is located just a short distance from Philadelphia, serving as a quiet weekday retreat for students who need a buffer between them and the hubbub of the big city. Campus is inclusive and cozy, and 98% of the more than 1,000 students choose to make their home in the dorms. Haverford is also known for the freedom it gives students, who enjoy substantial flexibility to chart their own course, from writing their own honor code to designing their own senior thesis.
Net Price: $22,409/yr
Total Score: 131.09
4. Swarthmore College
Swarthmore, Pennsylvania
Swarthmore is another liberal arts college looking to redefine the private school experience. It places equal emphasis on humanities and engineering majors and promotes a global outlook, drawing students from all 50 states and numerous other countries. It also seeks accessibility, and the college's generous financial aid packages keep its doors open to students of all socioeconomic levels. That being said, this affordable Pennsylvania college is exceedingly selective, admitting just 17% of applicants. Swarthmore is also big on community service and offers resources like the Lang Center for Civic and Social Responsibility, which integrates hands-on learning with opportunities to give back and address local issues.
Net Price: $22,557/yr
Total Score: 133.37
3. Lafayette College
Easton, Pennsylvania
If there's one best way to judge a college, it's by asking the students themselves. Lafayette excels when it comes to student reviews, and the National Survey of Student Engagement reveals that learners appreciate the academic challenge, active learning, and student-faculty interaction that characterizes this traditional liberal arts college. Lafayette works to develop the whole person - 20% of students report engaging in activities to enhance their spirituality, while more than 50% have studied abroad at least once by their senior year. You'll enjoy strong academic support no matter what field you choose, from Government and Law and Foreign Language (yes, that's one major!) to Electrical and Computer Engineering. It's no wonder Lafayette sports a graduation rate of 90%!
Net Price: $27,019/yr
Total Score: 135.95
2. Curtis Institute of Music
Philadelphia, Pennsylvania
Curtis is not like the rest of the universities on this list, and for good reason. In short, if you want to attend one of the best Pennsylvania colleges for music, the Curtis Institute is the way to go. The college has an acceptance rate of just 5% and only admits "exceptionally gifted young musicians" who have the potential to perform "on the highest professional level." Only about 165 young learners form the student body, but in exchange for their hard work, they benefit from celebrated professors, individualized attention, and enviable resources. And although admittance is based solely on artistic promise, Curtis Institute of Music rewards all those accepted with full tuition scholarships (the net price listed below represents living costs and additional fees, although Curtis often provides financial help to cover those expenses as well).
Net Price: $6,751/yr
Total Score: 136.01
1. University of Pennsylvania
Philadelphia, Pennsylvania
The University of Pennsylvania has a distinguished reputation that is well earned; from its rigorous coursework to comprehensive research programs, UPenn is synonymous with serious intellectual horsepower. Undergraduate degrees are divided between the College of Arts and Sciences, the School of Engineering and Applied Science, the School of Nursing, and the Wharton School of Business - and it boasts top-rated programs in each of these disciplines. Life at Penn is also rich in culture, art, and athletics, and it will be practically impossible for you to not get involved. But no matter how you spend your time, students here can feel comforted in the knowledge that they belong to what many consider the best university in Pennsylvania.
Net Price: $22,694/yr
Total Score: 162.52
Sources:
College Navigator
PayScale ROI
About the Author:
Iris Stone began her writing career as a freelance writer and researcher. She now owns and operates a writing and editing firm that works with clients all across the country. Her work has included articles related to education policy, colleges and universities, academic programs, and careers.