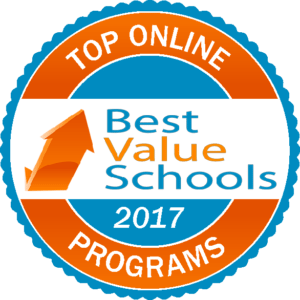 By BVS Staff
Welcome to our best value ranking of online colleges in Oregon. Also visit our ranking of the best overall cheap online colleges and universities.
There are approximately 30 four-year colleges and universities in Oregon, which together have no trouble providing an education for residents of the Pacific Northwest. However, only about 1 in 3 have worthwhile opportunities for students seeking an online undergraduate degree. Of those online-accessible schools, we are bringing you the 5 "best value." These top 5 colleges all earned at least 65 points (out of 100) in our ranking.
Methodology
Click here to read all about our best value online schools ranking methodology.
---
5. Northwest Christian University
Eugene, OR
At the heart of NCU's mission is the belief that "education is about the exercise of faith and reason." So it follows that the instructors at this top online school in Oregon integrate their Christian faith into the curriculum. Online learners can expect some of their assignments, discussion, and projects to include Christian themes, making the school a great choice for adults who want to pursue higher education in a faith-based environment. And to assist students in becoming all that they can be, Northwest Christian offers a comprehensive Prior Learning Assessment program. Through this system, applicants can apply knowledge gained from prior life and work experiences to obtain credit toward their degree.
In-State Undergrad Tuition: $27,270/yr
Score: 69
4. Portland State University
Portland, OR
The city of Portland has a reputation for being a little quirky, and Portland State University has an independent streak to match. PSU has long been devoted to adult learners, so offering affordable online college courses in Oregon was a natural next step. Program participants have access to the same top-rated faculty as their on-campus classmates, and videoconference options make it even easier to feel like part of the PSU community. And when it comes to online degrees, Portland State's selection is unsurprisingly reflective of the city's artistic scene. In fact, many of the programs - which focus on arts and letters, liberal studies, and social science - are hard to find at other online colleges.
In-State Undergrad Tuition: $8,034/yr
Score: 79
3. Oregon Institute of Technology
Klamath Falls, OR
As the only technology institute on this Oregon accredited online colleges ranking, OIT can't help but stand out from the crowd. But unlike other tech-focused colleges, OIT isn't overly restrictive in its online offerings. Its range of practical bachelor's programs is surprisingly robust - not to mention the myriad associate and certificate options available. Many of these programs, such as the B.S. in Health Informatics, focus on highly specialized medical fields and attract applicants with very specific career goals. OIT also offers generalized courses like the B.S. in Applied Psychology, which prepares graduates for careers in dozens of sectors.
In-State Undergrad Tuition: $8,838/yr
Score: 86
2. Eastern Oregon University
La Grande, OR
It's difficult to decide what's most impressive about Eastern Oregon University. Is it the fact that it's one of the most affordable online colleges in Oregon? That fully 64% of students are distance learners? Or is it just that EOU offers literally dozens of online majors and minors, giving undergrads the chance to choose a degree program as unique as one they'd take on campus? All of these factors work together to help EOU earn the #2 spot on this list. Not content to rest on its laurels, however, EOU continually adds new online degree. The school plans to add a timely new concentration in Community Health to its already popular Physical Activity and Health program.
In-State Undergrad Tuition: $7,764/yr
Score: 86
1. Oregon State University
Corvallis, OR
Undergrads looking to pursue "green" careers should put OSU at the top of their list. Of the more than 20 degrees available online, a notable percentage focus on environmental issues. Natural Resources, Environmental Sciences, and Horticulture are three, and there's even a double-degree program in Sustainability. OSU also offers quite a few foreign language degrees, along with a program in W. These are some of the most unique online degrees in Oregon - and in the entire United States, for that matter! And the fact that the school has the highest graduation rate on this list is a testament to the type of student who attends: motivated and ready to make the world a better place.
In-State Undergrad Tuition: $10,107/yr
Score: 100
This concludes our list of the top online degrees in Oregon.
See also: 15 Best Value Colleges and Universities in Oregon
Sources: