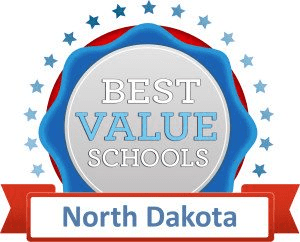 By Iris Stone
In this ranking, we examine top value universities and colleges in North Dakota for 2019.
From the rigorous academic environment at Minot State to the massive campus of the University at North Dakota, this state's colleges are working hard to bring you the best - at a fraction of the cost. North Dakota also has a robust job market, thanks to its plentiful natural resources, an affordable cost of living, and some of the country's friendliest citizens.
The five North Dakota universities listed below are great examples of all that the state has to offer and were chosen based on their ability to meet college students' demands across several categories, namely affordability, selectivity, return on investment, and graduation rate. You may also want to check out our ranking of the Top Online Schools in North Dakota.
Methodology
Read more about the methodology we used for this article here.
---
5. University of Jamestown
Jamestown, ND
Website
At the University of Jamestown, your success is guaranteed through the school's ambitious "journey to success" initiative. This remarkable program is at the root of what makes Jamestown one of the best universities in North Dakota - and that's not lip service. Through its combination of personalized advising services, on-demand career counseling, and four-year graduation guarantee, the University of Jamestown offers an experience that's hard to refuse. As a student here, you'll even be guaranteed at least one internship opportunity before you graduate, regardless of whether you major in Kinesiology, Criminal Justice, Foreign Languages, or one of more than a dozen other options. Each year at this top North Dakota college brings a new focus, asking at each new turn that you Look Inward, Look Beyond, Look Outward, and Look Forward.
Net Price: $16,992/yr
Score: 89.19
4. University of North Dakota
Grand Forks, ND
Website
While it's true that you can't always capture the full essence of a school by looking at the statistics, it's also true that numbers don't lie. And in the case of the University of North Dakota, the numbers say it all. UND offers more than 225 fields of study, more than 275 student clubs, and nearly two-dozen NCAA Division I sports teams. The student body includes nearly 15,000 individuals from more than 80 countries - nearly 75% of whom are undergraduates. And yet despite the gargantuan size of the campus, the average class numbers just 22 students! Not only is UND one of the top universities in North Dakota, it's also a nationally-ranked school in some pretty unique categories, including drone training, rural medicine, and student fitness level.
Net Price: $16,238/yr
Score: 105.86
3. Dickinson State University
Dickinson, ND
Website
Dickinson State University (formerly Dickinson State College) first opened its doors with a simple mission: to provide teacher training and meet the dire need for certified educators in rural North Dakota. In contrast, the DSU of today offers diplomas in dozens more career fields, including Agriculture and Technical Studies, Business, Exercise Science, and Computer Science - in addition to boasting an expanded department of Teacher Education! You might also consider the Theodore Roosevelt Honors Leadership Program - one of the shining stars of this affordable North Dakota college. The student-driven, collaborative organization emphasizes decision-making and problem-solving abilities, and although membership comes with a $3,000 scholarship, it's only available to the best and the brightest (you need a 3.5 GPA just to apply!).
Net Price: $10,074/yr
Score: 111.67
2. Minot State University
Minot, ND
Website
North Dakota might not be the most populous state in the union, but it is widely regarded as one of the best locations for maintaining your emotional, physical, and mental well-being. In a sense, Minot State University epitomizes the quintessential North Dakotan experience; its nearly 100 majors and minors (including unique standouts like Virtual Business, Energy Economics and Finance, Bioinformatics, and Environmental Geology), numerous academic support services (such as the Math Clinic and Peer Tutoring Program), and more than a dozen athletic teams (including both men and women's club hockey!) offer opportunities for personal growth at every turn. But this cheap college in North Dakota also boasts a 58% admissions rate - the most selective in the state - so be prepared to work hard to get accepted!
Net Price: $11,047/yr
Score: 120.01
1. North Dakota State University
Fargo, ND
Website
How is it that NDSU earns a #1 ranking while also being one of the most affordable universities in North Dakota? Don't be fooled by its low net price - this school performs at a level that rivals some of the school's most expensive colleges. In fact, it's one of just a small percentage of schools that classifies as "very high research activity" according to the Carnegie Commission on Higher Education. And in terms of student success, NDSU really is one of the top colleges in North Dakota. Just ask PayScale.com, which reported that the school maintains an average 20-year net ROI of nearly $420,000!
Net Price: $14,249/yr
Score: 137.53
This concludes our ranking of best value North Dakota colleges and universities.
Sources:
College Navigator
Pay Scale
About the Author:
Iris Stone began her writing career as a freelance writer and researcher. She now owns and operates a writing and editing firm that works with clients all across the country. Her work has included articles related to education policy, colleges and universities, academic programs, and careers.