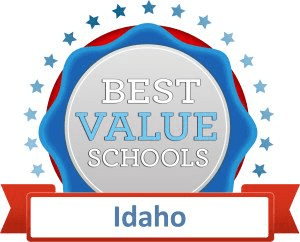 By Iris Stone
In this ranking, we examine top value universities and colleges in Idaho for 2019.
Idaho may not be the most populous or popular state, but it would be a shame to leave it out of our ranking just because of its low population density. Its higher education options are few but fair, with many of them offering superior academic options to their students. Of course, it can be easy to overlook their quality when you're so busy staring at their affordable tuition rates!
On that note, if you choose to go to college in Idaho, you'll also have plenty of time to stare at the state's breathtakingly beautiful mountain ranges, canyons, and waterfalls. Each of the five schools listed below were selected based on their performance in a variety of categories, which together offer a comprehensive picture of the universities' cost-to-quality ratio.
Methodology
Check out our methodology to read more about how we selected these top Idaho colleges.
---
5. Brigham Young University
Rexburg, ID
Website
In addition to their main campus in Utah, Brigham Young University has a location in Idaho that mirrors the ideals and priorities of their "parent" institution. Affiliated with the Church of Jesus Christ of Latter-day Saints, BYUI offers a holistic education that closely aligns with their religious values. As a student at this affordable university in Idaho, you'll benefit from an atmosphere that prioritizes your well-being, moral fortitude, and long-term success as much as your short term academic performance. Majors and minors are plentiful at BYUI, and many focus on industries that are especially relevant in rural Idaho: Animal and Food Science, Applied Plant Science, Construction Management, and Automotive Technology are just a few of the departments from which you can choose.
Net Price: $7,968/yr
Score: 90.02
4. Boise State University
Boise, ID
Website
Sports fans will immediately recognize the name Boise State thanks to its memorable football stadium and bright blue turf! And with nearly 20 sports teams, membership in the NCAA Division I league, and a total of 22,000 students (many of whom are willing and spirited spectators at athletic events) its pretty clear that this is one of the best universities in Idaho for sports fans. But we'd be remiss not to mention BSU's many other attractive features, including its enticingly low net price and excitingly high $285K 20-year net ROI (according to PayScale.com). But if its cost isn't convincing, consider the cheap Idaho college's spectacular growth instead: in less than a decade, it has doubled out-of-state student enrollment and increased the number of degrees awarded by more than 50%!
Net Price: $15,847/yr
Score: 91.01
3. The College of Idaho
Caldwell, ID
Website
As the oldest private institution in the state, The College of Idaho has procured a wealth of experience - and thus become an expert - in liberal arts education. Many of the perks afforded to C of I students are similar to those at other top private schools, such as small class sizes, a cozy campus, and attentive professors. But this top Idaho college also offers some opportunities that are all its own - most notably the distinctive PEAK curriculum. An acronym for "Professional, Ethical, Articulate, Knowledgeable," this strategy aims to combine a liberal arts approach to learning with career-oriented specializations and character development initiatives to help you prepare for a successful life postgrad. And the statistics suggest that their approach is working; the Idaho college's 60% graduation rate is the second highest in the state!
Net Price: $18,978/yr
Score: 96.11
2. Northwest Nazarene University
Nampa, ID
Website
As a Christian university, Northwest Nazarene has made its mark as one of the best colleges in Idaho for religious students with both spiritual and scholastic ambitions. NNU isn't your typical liberal art school, either; its 2,000+ students and nearly 90-acre campus - plus its more than 6,000 online learners - put Northwest Nazarene in the same category as many state schools. And although its net price is higher than what you might pay for in-state tuition, your investment will earn you access to an array of degree options - including Computer Graphic Design, Professional Writing, Environmental Chemistry, and seven pre-professional programs - that outflanks plenty of large public colleges. But don't expect to simply write a check and walk on campus - NNU's 65% acceptance rate makes it the most selective in Idaho!
Net Price: $20,857/yr
Score: 99.60
1. University of Idaho
Moscow, ID
Website
The University of Idaho is a place that "expects more" from its students. What does that mean? Don't expect to skate through your classes and grab a credential on the way out the door - this top university in Idaho demands that you "come to succeed and learn to lead." Explore your passions and prepare to make a serious contribution to your field, whether you want to major in Broadcast and Digital Media, Creative Writing, Fire Ecology and Management, Scientific Modeling, Music Theory, or another degree program on the university's exhaustive list of 300 options. At the end of the day (or four years, rather) your hard work will pay off - the net ROI for U of I grads is over $375k!
Net Price: $14,445/yr
Score: 135.94
This concludes our ranking of best value Idaho colleges and universities.
Sources:
College Navigator
Pay Scale
About the Author:
Iris Stone began her writing career as a freelance writer and researcher. She now owns and operates a writing and editing firm that works with clients all across the country. Her work has included articles related to education policy, colleges and universities, academic programs, and careers.