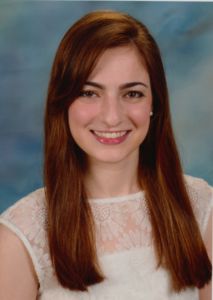 It's that time of year again! The Best Value Schools scholarship committee would like to announce another STEM Scholarship for Women recipient. We're proudly gifting $2,000 to support Dessie DiMino, a freshman at the California Institute of Technology in Pasadena. She's pursuing a Bachelor of Science in Computer Science with the Business Economics and Management (BEM) option. Dessie strives to use her superior coding skills and science expertise in the growing biomedical technology field.
In Garden City, New York, Dessie spent her high school years excelling in perhaps the most rigorous curriculum available. As a junior, she completed five Advanced Placement courses, including AP Chemistry and Calculus. Dessie stood out even amidst her high-achieving peers at Long Island's top-ranked school. Her exhaustive course-load didn't stop her from maintaining an outstanding GPA of 98.8/100. She earned her first "A" on an undergraduate course as a high school freshman. Dessie's high school counselor, Tim Casale, remarked that he's "never encountered a student with more academic energy."
Dessie's commendable determination and perfect SAT Math score of 800 led her to Columbia University's prestigious Science Honors Program. She's joined other STEM students taking college-level courses in virology, neuroscience, nanotechnology, and more. Independently, Dessie mastered a complex programming language called RobotC online through Carnegie Mellon University's Robotics Academy. She also fostered her passion for bioinformatics by attending the Cold Spring Harbor Laboratory DNA Summer Camp. Dessie has become highly experienced in Java, Python, Linux, and C++.
Advancing Medicine Through Robotic Technology
Dessie DiMino has already made strides improving patient care through robotics in her young career. At Stony Brook University, she worked with 3D printers in the Materials Research Science and Engineering Center to develop a Bio-Ink. Her invention helps print a scaffold to support dermal fibroblast cell growth that won't be rejected by burn victims' immune systems. Along with a provisional patent, Dessie earned third place in the Long Island Science and Engineering Fair. She was even crowned the New York Tri-State NCWIT Aspirations in Computing Award winner.
Not only has she coded her way to the FIRST Tech Challenge World Championship, but she's inspired other women to study computer science. Dessie started a Girls Who Code Club at the Girl Scouts of Nassau County. Here she taught 25 girls a 40-hour curriculum using Python every Sunday. Since resources were tight, Dessie took initiative to pursue a PSEG Science Spark Partners grant for $10,000 to purchase their laptops. She's also started a Robotics Club to help members build and program robots with the VEX system.
At Best Value Schools, we believe Dessie DiMino has limitless potential developing tech innovations. From competing in fencing at the Junior Olympics to becoming a semifinalist in the Intel Science Talent Search, it's clear that Dessie will succeed in wherever her collegiate career goes. We're honored to financially support her dreams using computer science to analyze disease and improve surgery. Her energetic passion, goal-oriented nature, and modest character make her the perfect BVS Scholarship candidate. Congratulations, Dessie!
Share Dessie's Fervor for STEM? Apply Next Year!
Now we invite every other woman doing their part to advance science, technology, engineering, and mathematics to share their story. Your application will put you in the running for a money-saving scholarship to lower your tuition bills. Our next cycle will begin April 1, 2017, so mark your calendar. We look forward to hearing from more pioneering STEM majors who are improving women's under-representation in technical fields.