The Community College Conundrum
Advertisement
BestValueSchools.com is an advertising-supported site. Featured programs and school search results are for schools that compensate us. This compensation does not influence our school rankings, resource guides, or other information published on this site.
Are you ready to find your fit?
The Community College Conundrum

Share this infographic on your site!

The Community College Conundrum: and why some very smart people bypassed elite schools to attend these 2 yr. schools
Looking Back
1901: Joliet, first community college was founded by William Rainey Harper, president of the University of Chicago.
By the 1930s, all but 5 states had Junior Colleges, as they were then called
In 1948, the Truman Commission suggested the creation of a network of public, community-based colleges to serve local needs.
Why people go to community colleges:
To save money. Are less expensive than most 4 year schools. You save tens of thousands of dollars
It's an easier transition from high school: most community college campuses are small compared to universities
Advantages to living at home: living in dorms is expensive
More time to think about a career
It can be a confidence booster; junior colleges are usually less challenging (not always)
Looking forward:
The nation's 1,132 community colleges enroll nearly half of all undergraduates in the U.S.—just over 13 million students.
Enrollment by attendance, percentage:
Full time: 41 % (2.8 million students)
Part time: A59 % (4 million students)
Enrollment by gender:
Male: 39 %
Female: 61%
Generally, community colleges are open enrollment: any high school graduate is eligible to attend.
But some programs are selective with limited enrollment. Selective programs are primarily found in these fields:
Nursing
Allied health
Law enforcement
Engineering technology
Computer technology
Student Success Stories: Famous, Smart Students Who Attended Community Colleges
Halle Berry, an Oscar winning actress, studied broadcast journalism at Cuyahoga Community College.
Gwendolyn Brooks, the Pulitzer Prize-winning poet, went the distance and graduated from Wilson Junior College.
Eileen Collins, the first woman to command a space shuttle mission, started out at Corning Community College.
Billy Crystal, comic actor, started at Nassau Community College, on Long Island, and then transferred to NYU.
Walt Disney attended Metropolitan Junior College in Missouri. Then he graduated and started drawing mouses.
Clint Eastwood studied business administration at Los Angeles City College.
Tom Hanks went to Chabot College for two years and then transferred to Cal State, Sacramento.
Terri Hatcher, actress, Desperate Housewives, went to De Anza College.
George Lucas, film producer and creator of Star Wars, went to Modesto Community College before transferring to USC.
Eddie Murphy, like Billy Crystal, attended Nassau Community College.
Sarah Palin graduated from the University of Idaho. Before that she attended no fewer than five other colleges. Two of them – North Idaho College and Matanuska-Susitna College – were community colleges.
H. Ross Perot, the chart-happy former presidential candidate, attended Texarkana Junior College and then finished his education at the U.S. Naval Academy.
Jackie Robinson, the legendary baseball player who broke the color barrier in the major leagues, went to Pasadena Junior College.
Arnold Schwarzenegger attended Santa Monica College.
Craig Venter, the scientist who sequenced the human genome, began his studies at San Mateo Community College.
John Walsh, host of America's Most Wanted, started at Cayuga Community College and then transferred to SUNY Buffalo.
Community Colleges cited for student success
• Central New Mexico Community College (NM)
• Hudson County Community College (NJ)
• Phillips Community College (AR)
• South Texas College (TX)
• Tarrant County College (TX)
WOW!!! Nearly 30% of Americans with associate's degrees now make more than those with bachelor's degrees, according to Georgetown University's Center on Education and the Workforce.
Other recent research in several states shows that, on average, community college graduates right out of school make more than graduates of four-year universities.
End note: So if you're looking for work, maybe the smartest thing for some people to do is go to a community college….? You decide.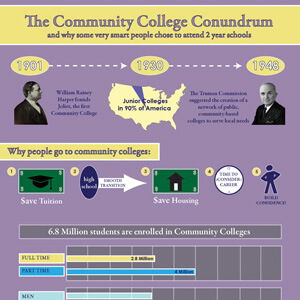 Get prepared for your next steps
Use articles and resources to uncover answers to common questions, get guidance on your goals, and learn about applying to schools.
How To Make Sure You Are ReadyBy Kate JellemaThis year, for the first time, the number of women and men enrolled in graduate schools in…
As technology becomes an ever-increasing part of our lives, the demand for information systems security experts grows, and with it, the need for online Ph.D.
If you're looking to land nonprofit management scholarships, you may be surprised to discover that there are numerous awards available from professional organizations and universities…
Advertisement
BestValueSchools.com is an advertising-supported site. Featured programs and school search results are for schools that compensate us. This compensation does not influence our school rankings, resource guides, or other information published on this site.
Discover a program that is right for you.
Explore different options for you based on your degree interests.