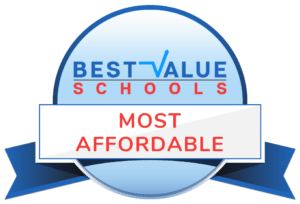 Click here for high resolution badge
By BVS Staff
Internet marketing degree programs are relatively new on college campuses, but they are quickly gaining popularity. This change is in response to a broader evolution in the world of advertising and public relations, in which companies are now expected to connect with potential customers primarily over the internet.
Featured Schools
If you want a career in marketing, earning an online digital marketing degree could be just what you need to get started. By the time you graduate, your knowledge of cutting-edge topics like social media advertising, search engine optimization, and web development will help you stand out from your peers in the job market.
The 15 Best Online Digital Marketing Programs Ranking Methodology
Selection Criteria
For this ranking, we focused on public and private (non-profit) colleges and universities that offer digital marketing degrees online. Because the focus of this list is on affordability, we only considered programs with average* tuition rates of $25,000/year or less.
*For public schools, we calculated the average value of their in-state and out-of-state rates.
Ranking Factors
Unfortunately, there are a limited number of internet marketing degrees available online. Therefore, we could not compile a pool of options large enough to justify a multifactorial ranking system in which we'd score colleges and universities based on a list of specific considerations.
So instead, we ranked the programs solely according to their affordability. See below for the best cheap digital marketing degrees online, ranked from most to least expensive.
Cheap Online Internet Marketing Degree Programs Ranked
---
15. Harrisburg University of Science and Technology
Online Bachelor of Science in Management and eBusiness: Digital Marketing Concentration
Website
You might be wondering what a university "of science and technology" is doing in an article about marketing degrees. But Harrisburg University is actually a top school for adult learners and supports a number of professionally-oriented programs - like its Bachelor of Science in Management and eBusiness. Coupled with a concentration in Digital Marketing, this program becomes one of the top digital marketing degrees online. The concentration course sequence covers all the essential topics, including SEO, marketing research, and consumer behavior. In a unique twist, it also lets you choose a Management or Practitioner sub-concentration. The former focuses on analytics and statistics, while the latter offers training in visual and user-experience design.
Average Tuition & Fees: $23,900/yr
14. Liberty University
Online Bachelor of Science in Business Administration: Digital Marketing and Advertising
Website
Today's fast-paced, web-driven world has led to an increased demand for marketing professionals with diverse skillsets. Liberty aims to meet this need with a program that combines three major career fields: business, digital marketing, and advertising. One of the best cheap online digital marketing programs for management professionals, this degree dedicates about 75% of its coursework to general business topics. For the remainder of your time, you'll take "cognate" classes that address industry-relevant concepts like conversion, optimization, and customer retention. Plus, you'll appreciate Liberty's flexible delivery methods, which include eight-week, asynchronous courses and eight start dates per year.
Average Tuition & Fees: $21,310/yr
13. Point University
Online Bachelor of Science in Social Media Marketing
Website
Marketing comes in many different types, from television advertising to product testing. One increasingly important type is social media marketing, which is why schools like Point University have begun dedicating entire programs to the subject. Indeed, Point has one of the top online social media marketing degrees anywhere on the internet. The curriculum is so comprehensive, in fact, that it dedicates entire classes to each of the major social media sites, including Facebook, Instagram, Pinterest, LinkedIn, and Twitter. You'll also study blogging and video marketing, plus pick up a solid supplement of general business knowledge (e.g. management, finance, and business law).
Average Tuition & Fees: $20,600/yr
12. Oregon State University
Online BA or BS in Business Administration: Digital Marketing
Website
Oregon State University is one of several schools to earn a spot on this digital marketing degrees online ranking through their business programs. And that's a huge plus for marketing majors at OSU, as the university boasts a top, AACSB-accredited bachelor's degree in business administration. The digital marketing concentration within the program deserves similar praise, as it manages to provide a comprehensive survey of the field in just six courses. These courses explore everything from consumer behavior to search engine marketing, ensuring you'll graduate with the skills you need to be a successful digital marketer in any venue.
Average Tuition & Fees: $20,212/yr
11. Purdue University
Online Bachelor of Science in Business Administration: New Media/Internet Marketing
Website
In many ways, Purdue University's BSBA program looks like all the other business-oriented degrees on this ranking. It features a solid core of general business classes along with a four-course concentration in New Media/Internet Marketing. But there are some other ways that this top cheap online internet marketing degree stands out from the crowd. For one, Purdue's business school is ACBSP-accredited, which points to the high quality of its coursework. On top of that, Purdue goes out of its way to convenience online learners. In addition to near-monthly start dates, the school offers an "ExcelTrack" business program that utilizes a competency-based approach to help experience professionals save time and money toward their degree.
Average Tuition & Fees: $19,393/yr
10. Arizona State University
Online Bachelor's Degree in Marketing: Digital and Integrated Marketing Communications
Website
If you'd rather skip the business lessons and focus your education entirely on marketing, check out Arizona State University. ASU is home to a comprehensive marketing program that will school you on everything from marketing research and analytics to consumer behavior and competitive strategies. And you can easily transform the degree into an affordable online digital marketing program by selecting a concentration in Digital and Integrated Marketing Communications. In doing so, you'll gain access to targeted electives like "Digital Tools for Building Brands," "Social Media and Content Marketing," and "Creating Digital Experiences."
Average Tuition & Fees: $19,082/yr
9. Old Dominion University
Online Bachelor of Science in Business Administration: Marketing Major - Digital Marketing Concentration
Website
Most business administration programs only allot three or four courses to their concentrations, and you might expect the same from Old Dominion University. And to be sure, ODU's BSBA degree curriculum consists of 14 core business classes. But it also allows for surprisingly robust concentrations that include not three or four but eight courses. This unusual approach helps ODU stand out on this online digital marketing programs ranking. And it also provides big benefits to students. You'll get to explore the standard topics (e.g. marketing research, consumer behavior) but also less common subjects like web analytics, social media marketing, and web page design.
Average Tuition & Fees: $18,975/yr
8. California College San Diego
Online Bachelor of Science in Business Administration: New Media Marketing Emphasis
Website
Although the internet has been around for decades, digital marketing has only recently begun to overtake traditional methods of advertising in its popularity and effectiveness. And each new social media site or internet craze brings a new opportunity for marketers, which is why California College of San Diego decided to focus its program on "new media." The result is an online digital marketing program that prioritizes emerging developments in the field, pushing students to get ahead of the curve and even become influencers themselves. This approach is evident in the New Media Marketing coursework, which includes classes like "Using Social Media for Business" and "Influence and Persuasion in Business."
Average Tuition & Fees: $16,968/yr
7. Lindenwood University
Online Bachelor of Science in Social Media and Digital Content Strategy
Website
Although social media isn't the only aspect of digital marketing, it is a hugely important one. Marketers can now get jobs entirely focused on social media management, and Lindenwood University has wasted no time capitalizing on that fact. One of the best cheap online social media marketing degrees, Lindenwood's program covers a remarkably extensive list of topics. Classes explore emerging platforms, digital content, personal branding, audience analysis, media literacy, photoshop design, and much more. The hands-on curriculum also includes a three-part "Digital Content Strategy Practicum" in which you'll work directly with clients to develop and implement customized digital branding strategies.
Average Tuition & Fees: $16,960/yr
6. University of Wisconsin-Stout
Online BS in Digital Marketing Technology
Website
When deciding where to earn an accredited digital marketing degree online, it's important to consider the types of skills you want to acquire. Most marketers focus on soft skills like communication and branding, but the rise of the internet now makes it equally important to have technical skills like graphic design and web programming. And that's where the University of Wisconsin - Stout comes in. Its program focuses almost entirely on the technical side of the field, with classes in collaborative computing, graphics software, web technologies, and other similar topics. Note that it also includes a required summer co-op experience, but you can complete all your other courses completely online.
Average Tuition & Fees: $13,439/yr
5. Johnson & Wales University-Online
Online Bachelor of Science in Digital Marketing and Social Media
Website
Johnson and Wales' B.S. in Digital Marketing and Social Media is ready to help you take the internet by storm. Freshly designed and up-to-date on the latest practices, JWU's accredited online social media marketing degree has one of the strongest curricula of any program on this ranking. The core coursework covers both relevant business principles (e.g. social media, SEO, and data-driven marketing) and key design concepts (e.g. user experience, data visualization, and coding). And for hands-on experience, you'll also complete either an internship or "project-based experiential learning opportunity" as well as a two-part capstone presentation.
Average Tuition & Fees: $13,365/yr
4. New England College of Business and Finance
Online Bachelor of Science in Digital Marketing
Website
If you're looking for a degree that emphasizes business and marketing in equal measure, be sure to take a good look at the New England College of Business and Finance. This program's core sequence divides equally between both fields, with eight marketing and nine business classes. Here, you'll acquire a foundation in digital advertising, SEO, mobile marketing, public relations, and other key industry concepts. After that, students enrolled in this cheap digital marketing degree online will get to customize their studies by choosing one business and three marketing electives. Finally, be prepared to demonstrate your knowledge in a senior capstone course.
Average Tuition & Fees: $12,040/yr
3. Arkansas State University
Online Bachelor of Science in Strategic Communications: Social Media Management
Website
As a strategic communication degree, Arkansas State's program is best suited to professionals who prioritize skill development over specific career preparation. Indeed, the core classes tend to focus on written communication skills, such as "Strategic Writing" and "Media Grammar and Style." This makes the program especially appropriate for students who want to become copywriters, online bloggers, or political strategists. And all those occupations require an understanding of social media management, which is why ASU has created a concentration in exactly that. In the end, you'll graduate from this online social media marketing degree with expertise in everything from public relations to interactive advertising and digital analytics.
Average Tuition & Fees: $11,628/yr
2. Park University
Online Bachelor of Science in Marketing: Digital Marketing Track
Website
For a solid foundation in business, marketing, and digital advertising, check out Park University's online program. This ACBSP-accredited online internet marketing degree starts out with a 13-course business sequence, where you'll learn about economics, business policy, and finance while also picking up the basic principles of marketing. Next, you'll complete a seven-course marketing requirement. Within this part of the program, you'll complete some general marketing classes (e.g. "Consumer Behavior" and "Marketing Management") before diving into the specialized Digital Marketing track. Here's where you'll pick up all the latest tools of the trade, from e-marketing and graphic design to social media and marketing research.
Average Tuition & Fees: $10,774/yr
1. Indiana Wesleyan University
Online BS in Marketing: Digital Advertising, Promotions, and Branding Specialization
Website
There is a lot to love about Indiana Wesleyan University's top online internet marketing degree. First, the program is designed to maximize both convenience and support. Cohort-style learning encourages peer interaction, while a strict sequential course progression means you'll only have to register for classes once. As for the curriculum, IWU's program is unique in that it offers two specializations related to digital marketing. The first - Digital Advertising, Promotions, and Branding - provides a broad overview of many different types of web-based marketing strategies. Alternatively, you can specialize in Social Media if you want to become an expert in subjects like social networking, commerce, and publishing.
Average Tuition & Fees: $9,645/yr
Thanks for reading our ranking of the 15 top cheap online digital marketing programs!
Sources:
IPEDS Data Center
College Navigator
See Also:
Internet Marketing Scholarships