15 Best Online Master's in Sports Medicine 2019 can help jumpstart your future career in the sports industry.
Sports and athletics have captivated our society for as long as anyone can remember. The sports industry has grown to an extraordinary degree, and many are interested in being a part of it. Central to its success is the health of athletes, so the allure of an advanced degree in Sports medicine is not surprising.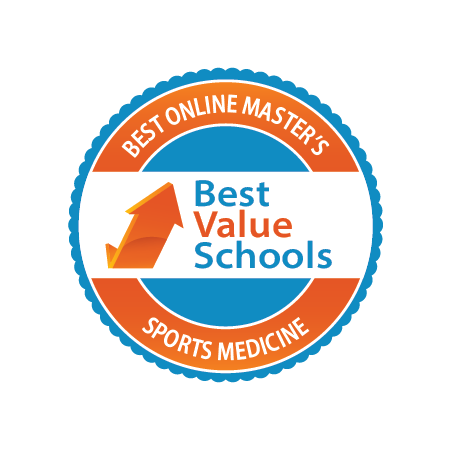 A master's in a Sports Medicine field leads to many professions, such as Athletic Training, Physical Therapy, Coaching, Teaching, and Health Advocating. According to the U.S. Bureau of Labor Statistics, the need for these roles is growing at a rate faster than the national average.
Online degree completion is especially helpful because many working professionals seek to further their education while continuing their career in the Sports Medicine Field. Best Value Schools' ranked the 15 Best Online Master's in Sports Medicine in 2019 for you.
The 15 Best Online Master's in Sports Medicine Degree Ranking Methodology
Best Value Schools publishes college degree rankings with the belief of how one's higher education should be, both, affordable and an investment of continued value for the students who pursue them. The staff of BVS collects data from reputable sources in order to calculate Net Price and the short and long-term value of every ranked degree. Collected data is simplified into weighted categories before scoring, and then scaled through a BVS Score up to 100. The weighted categories are:
Degree Investment Return (25%)
Student & Alumni Evaluation (25%)
Cost Value (25%)
Matriculation (10%)
Academic Success (15%)
No matter what degree you decide on, we hope our research and support has made the selection process easier. Our ultimate priority is helping you find the right school to match your academic and professional needs. There are numerous resources BVS utilizes to collect information on degrees, and we encourage you to check them out for yourself!
#15 Fresno Pacific University
Masters of Arts in Athletic Training
North Fresno, California
Fresno Pacific University understands how online students have unique needs with its commitment to offering a flexible and quality education to students completing their master's degree remotely. Faculty and staff are dedicated to their students, so obtaining a graduate degree in Athletic Training from FPU is an undertaking well supported. Eighty-one percent of faculty members hold a Ph.D. in their respective fields, so you can be sure your professors know their material.
Net Price: $30,458
#14 Southern Utah University
Master of Science in Sports Conditioning & Performance
Cedar City, UT
Southern Utah University prides itself as being the "Coach Factory," because of its requirement of students to spend up to two weeks on the SUU campus for clinical workshops. The upside, however, is how SUU graduate students will be well-prepared to design effective and safe exercise programs for all levels of athletes. Professionals such as coaches, educators, trainers, and therapists can all benefit from a master's in Sports Conditioning & Performance from SUU.
Net Price: $6,676 in-state/$20,288 out-of-state
#13 University of Western States
Master of Science in Sports Medicine
Portland, OR
Earning a Master's degree in Sports Medicine from the University of Western States is a great idea for health care providers who frequently work with athletes, such as chiropractic physicians. Although UWS is committed to hands-on training as a part of its curriculum, online students have the option of going to on-campus labs or arranging their practicum with a supervisor in their local areas. Most existing health-care professionals can finish their degree in only a year and a half, due to competent credit transferring. This clinical program will aid you to be both on the sideline and in the training room.
Net Price: $28,449
#12 Sul Ross State University
Master of Science in Health and Human Performance
Del Rio, TX
If you are looking for a fast-track, flexible master's degree in a health or sports setting, look no further than Sul Ross State University. Highly motivated students can complete this degree in as little as one year. A part-time load is available as well. Students will receive professional training that lends well to a broad range of applications. The Health and Human Performance program specifically aims for an evidence-based approach towards all improvements in the health fields.
Net Price: $8,072 in-state/$20,522 out-of-state
#11 McNeese State University
Master of Science in Health and Human Performance
Lake Charles, LA
As a top public university in U.S. News and World Report rankings, McNeese State University provides top-tier education that is recognized both regionally and nationally. McNeese will prepare you to be a top healthcare professional, teacher, or coach. After 33-39 credit hours, a McNeese master's degree equips graduates to promote physical fitness and healthy habits. Students can choose from three concentrations, which include Exercise Physiology, Health Promotion, or Nutrition and Wellness.
Net Price: $7,920 in-state/$15,958 out-of-state
#10 Texas A&M University - Kingsville
Master of Science in Kinesiology
Kingsville, TX
At Texas A&M University-Kingsville, you will become a "well-rounded leader and critical thinker in the areas of health and movement studies." These are qualities anyone in the Sports Medicine profession aspires to have. Students at Texas A&M University-Kingsville have the option of a general or tailored MS in Kinesiology. The latter is especially helpful for those who know their specific career needs and interests. On top of that, you'll be equipped to disperse this knowledge to those you work with.
Net Price: $8,462 in-state/$22,102 out-of-state
#9 Northcentral University
Masters of Education in Athletic Coaching
San Diego, CA
Northcentral University is wholly committed to the success of its students. Every single faculty member holds a Ph.D., which is fantastic considering NCU's one-to-one learning model. NCU is regionally accredited by WSCUC, and graduate students can complete their entire degree online. There are no group projects or scheduled lectures, so you can remain completely flexible with how and when you finish your work. In addition, NCU has it set up so you can begin your program as soon as you're ready, and complete it in as little as 15 months. With experienced mentors, look forward to enhancing your practical skills and strategies as a coach learning at NCU.
Net Price: $10,680
#8 Concordia University - Chicago
Master of Science in Applied Exercise Science with Human Movement Science
Chicago, IL
Concordia University Chicago designed its master's in applied exercise science in partnership with the National Academy of Sports Medicine. Completing a degree at Concordia can take as little as a year and a half and will set you up well to attain certification as a NASM Corrective Exercise Specialist. The concentration in Human Movement Science is primarily geared towards injury prevention, teaching about improvements in functional capacity and proper movement patterning.
Current students rave about the flexibility of both class load and tuition payments. They note how the setup at Concordia aligns well with a working professional's schedule and salary. This flexibility is in part because classes start every eight weeks. Another benefit is that typical class sizes are 18 students so that you will know your professor and classmates well.
Net Price: $31,588
#7 The University of Texas at Tyler
Master of Science in Kinesiology
Tyler, TX
Working physical therapists and athletic trainers can benefit from a master's degree from the University of Texas at Tyler. UT Tyler provides a program that can be completed face-to-face, online or a combination of both. You will find that the award-winning faculty members will know your name and give you attention. They can do this because of the small class sizes where students benefit from individualized help. Required courses include biomechanics, exercise physiology, research, and motor learning. UT Tyler also conducts excellent research, with projects funded by the National Institutes of Health, the American Heart Association, and the Texas Department of State Health Services.
Net Price: $5,370 in-state/$23,280 out-of-state
#6 University of Northern Colorado
Master of Arts in Sport and Exercise Science with Sports Coaching
Greeley, CO
As one of the first institutions in America to offer graduate degrees in sports coaching, the University of Northern Colorado prides itself in helping establish the standard for all master's degree sports coaching programs. At UNC, you'll take part in an online program designed for full-time or part-time coaches. The curriculum includes psychology, training, conditioning, metrics and research, sports law, and international perspectives. These courses are taught by nationally recognized experts who are keen to give you attentive guidance to make you a more effective coach.
Net Price: $9,546 in-state/$21,132 out-of-state
#5 The University of Texas Rio Grande Valley
Master of Science in Kinesiology
Brownsville, TX
The Department of Health and Human Performance at the University of Texas Rio Grande Valley is committed to preparing its students for professional work promoting health and improving life quality in society. UTGRV follows through by increasing understanding of concepts related to wellness and physical activity. Students complete 36 credit hours on a thesis or non-thesis route toward their degree. Although the baseline requirements are the same, you can work with your graduate advisor to individualize components of your program.
Net Price: $7,587 in-state/$17,547 out-of-state
#4 United States Sports Academy
Master of Science in Sports Science
Daphne, AL
The United States Sports Academy is known to prepare its students well for sports industry careers. The major areas of the Academy are typical, including sports coaching, sports health and fitness, sports management, and sports studies. These are especially helpful to those working with elite-level athletes. Being an institution whose sole purpose is the educate those in the field of sports allows the Academy to provide top-notch and reliable sports education.
Net Price: $14,652
#3 Texas A&M University - Commerce
Master of Science in Health, Kinesiology, and Sport Studies
Commerce, TX
At Texas A&M University - Commerce, a master's degree comes with one of four concentrations such as Athletic Administration, Health Promotion, Exercise Science, or Physical Education Pedagogy. Each option is offered completely 100 online, except for Exercise Science, which is only 60 percent online. Having four distinct concentrations makes this program highly appealing for many prospective students. Graduates have gone on to diverse professions such as teaching, coaching, wellness-promoting, and academia. Count on learning and incorporating both theory and practice as you work towards your degree.
Net Price: $8,434 in-state/$20,884 out-of-state
#2 University of Louisiana at Monroe
Master of Science in Exercise Science with Sports Management
Monroe, LA
If you're looking for a graduate program that prides itself in its commitment to its students, the University of Louisiana at Monroe is for you. ULM has a support system to provide you with help and guidance from the moment you begin until you receive your diploma, and beyond. On top of that, ULM is accredited by the Southern Association of Colleges and Schools Commission. You can be sure that earning an MS in Exercise Science here will only help you in your Sports Management endeavors.
Net Price: $8,840 in-state/$20,570 out-of-state
#1 University of Texas of the Permian Basin
Master of Science in Kinesiology
Odessa, TX
The University of Texas of the Permian Basin champions the top of our list. The U.T. Permian Basin is a collaborative degree program that prioritizes quality education. Although a traditional MS in Kinesiology is possible, graduate students at U.T. Permian Basin can complete their entire degree online. Advisors will work with you to create a program that matches your goals, interests, and needs in one of three areas including Exercise Science, Psychology of Exercise and Sport, and Teaching, Coaching, and Administration. With an average tuition of $6,202, U.T Permian Basin is well worth the investment for an MS in Kinesiology.
Net Price: $5,782 in-state/$6,622 out-of-state