They're on your computers, your cell phones, your tablets, and your televisions - simply put, they're everywhere. The video game industry is skyrocketing in growth every year, and as the industry grows, the skill and effort needed to create new, exciting games become greater. Games are becoming more intricately detailed, and there is a need for talented designers who can build games to meet consumer demands.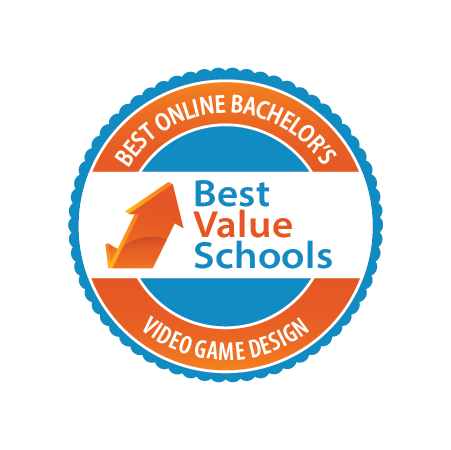 If you have a knack for computer programming and a passion for video games, a career in this field might be for you. However, you can't get by in this tough, fast-paced industry on skill alone - you need a Bachelor's in Game Design. Luckily, an online degree can offer you everything you need, without requiring you to leave home or your current job. Online work can often be completed in the format that is most convenient for you.
But don't delay in enrolling. Video games have grown into a multi-billion dollar industry throughout the entire globe, and large and small companies alike need you to help design the next big game that will dominate the market. These professionals earn, on average, about $70,530 per year, and jobs are expected to grow around eight percent by 2026 - slightly faster than the national average.
Selection Criteria
If you're considering an online degree in Game Design, you don't have time to waste while trying to find the best degree for your needs. We created a comprehensive list of the Best Online Bachelor's in Game Design to make your decision just a little bit easier. In creating our list, we examined public and private colleges alike, but every program we reviewed had to have an online degree in Game Design that was currently both enrolling and graduating students.
Ranking Factors
Once we put together a list of all of the online Bachelor's in Game Design degrees, we next honed our list to only the schools that were the best of their kind. We considered the following characteristics when making our final cut:
Academic Rigor
Accessibility
Accreditation
Affordability
Accolades and Program Recognitions
However, our decision-making process didn't just stop there. If you're interested in a closer look at how we made our decision, be sure to check out our methodology page.
10. University of Baltimore
Bachelor of Science in Simulation and Game Design
The Bachelor of Science in Simulation and Game Design at the University of Baltimore is one of the oldest and largest of its kind in the state of Maryland, enrolling over 150 students over two campuses. The program is ranked as one of the most affordable online bachelor's programs in game design by AffordableColleges.com and allows students to choose from two content areas in focusing their studies. Candidates can choose from a Technical Art specialization or a Coding and Development specialization. Both are ideal for candidates who are seeking to enhance their skills in areas like 3D modeling and animation, usability design, and applied game design theory. All students are required to complete a final capstone project and are granted access to the exclusive University of Baltimore GameLab, and educational research facility with dozens of types of interactive game and visualization technologies.
Average Tuition & Fees: $16,960
Score: $16,960
9. Rocky Mountain College of Art and Design
Bachelor of Fine Arts in Game Art.
This degree combines practical applications and skills of game design with game design theory and programming concepts. It prepares students for many careers, namely those in game design, 3D modeling, lighting art, and animation. Requiring 123 credit hours of study, the program serves both traditional and non-traditional students by offering a degree that is rooted in the arts. Students will take classes in several core areas, including Lighting and Texture, 3D Modeling, Visual Storytelling, Character Rigging, Animation, Level Design, and Business Ethics and Copyrights. This well-rounded program is offered in a structured but flexible environment, offering students support from online faculty who are also industry professionals.
Average Tuition & Fees: $17,558
Score: 80.01
8. Lindenwood University
Bachelor of Arts in Game Design
Lindenwood University's online Bachelor of Arts in Game Design is indistinguishable from an on-campus program, offering students numerous professional development opportunities and other key resources. The school can meet the needs of students with a variety of career interests by combining art theory with industry-specific skills. One hundred twenty total credit hours are required, with core courses including Level Design, Game Development, Arts Entrepreneurship, 3D Animation, and 3D graphics. All students are required to complete an internship, portfolio, and capstone project before graduating from this intensive degree. Game Design faculty at Lindenwood are some of the most experienced in the world, which is why this program is ranked as one of the best by ranking affiliates like BestColleges.com.
Average Tuition & Fees: $31,136
Score: 80.13
7. Full Sail University
Bachelor of Science in Game Art/Bachelor of Science in Game Design
Full Sail University, established in 1979 as an audio recording workshop, is unique in that it offers two high-ranking degrees in game design. Both programs help students by emphasizing career-readiness and professional development. The Bachelor of Science in Game Art emphasizes the application of animation, design, and art principles, while the Bachelor of Science in Game Design is more focused on the structuring, playability, storytelling, and planning that goes into a successful video game. Regardless of the program chosen, all students may select courses that accommodate their interests and skill sets. These programs are fast-paced and offered entirely online. Core courses include topics like Game Mechanics, Prototyping, Motion Capture, and Level Assembly and Lighting.
Average Tuition & Fees: $17,963
Score: 81.47
6. The Art Institute of Pittsburgh-Online Division
Bachelor of Science in Game Art and Design
The Bachelor of Science in Game Art and Design at the Art Institute of Pittsburgh - Online provides students with comprehensive training in the theory and practice of game design while at the same time preparing them for a range of rewarding careers. It blends computer science and programming with newer concepts of 2D and 3D design. Students gain access to hands-on design projects and work with well-rounded professionals, preparing them for careers as game concept artists, interactive designers, and more. One hundred eighty quarter-credit hours are required, with key coursework in topics like Game Animation and Design Fundamentals. All students are also required to complete a portfolio throughout their studies, which can be used for career placement. An additional certificate in Character Animation for Games is also available.
Average Tuition & Fees: $9,360
Score: 81.62
5. Academy of Art University
Bachelor of Fine Arts in Game Development
The Academy of Art University offers students several levels of training in game design, with an associates bachelor of fine arts, master of arts, and master of fine arts available. This degree provides for a well-rounded arts education along with an emphasis on professional techniques like animation, lighting, and 3D modeling in video game production. Students will take classes in artistic topics like art theory, character development, art history, and storytelling. All programs have a strong liberal arts core, with this degree requiring 132 credit hours for graduation. Each student is required to complete an internship before graduation, which helps to expand career prospects and professional networks.
Average Tuition & Fees: $22,308
Score: 83.12
4. Savannah College of Art and Design
Bachelor of Arts in Digital Media with a Concentration in Game Development
This highly customizable program is available entirely online and taught by skilled faculty members who are at the top of their industry. Distance learners learn how to incorporate key software and programming languages as they build their skills through increasingly challenging, yet relevant, assignments. This school is one of the best at placing students in rewarding careers after graduation, as all distance learners are required to build professional portfolios as they progress through their studies. The school offers some additional career services, including internships, career placement, and even resume development. Most classes are taught asynchronously, allowing students to attend lectures and complete coursework at their own convenience.
Average Tuition & Fees: $21,252
Score: 83.21
3. Southern New Hampshire University
Bachelor of Arts in Game Art and Development
The Bachelor of Arts in Game Art and Development at Southern New Hampshire University is designed to help all online learners expand and express their creativity in a variety of game design professions. It blends core computer science principles and programming skills with the artistic elements necessary for game design. Students must take 1120 total credit hours, including core coursework in topics like Illustration, Environment Design, Basic Design, and Color Theory, and Digital Sculpting. Before graduation, all students must also complete capstone projects to demonstrate their proficiency and acquired knowledge in the field. Students also create portfolios of front-end game designs, utilizing industry-standard tools like Adobe Photoshop and Autodesk. Southern New Hampshire offers students a nationwide network of alumni who provide them with exceptional internship and career opportunities.
Average Tuition & Fees: $21,310
Score: 83.24
2. Baker College
Bachelor of Science in Game Software Development
This hands-on program blends the technical aspects of game design with essential computer programming principles and concepts. Students will take classes in the specifics of programming in a variety of languages, including C++ and HTML. All students must engage in a work experience component to help them solve hands-on challenges in the industry. This helps prepare students for a variety of careers, including those as game designers, engineer programmers, and graphics directors. One hundred twenty total credit hours are required in topics like Artificial Intelligence, Unreal Game Programming, and Game Design and Analysis. A whopping 300 hours of field experience are also needed.
Average Tuition & Fees: $36,410
Score: 90.99
1. Liberty University
Bachelor of Science in Information Technology with a specialization in Game Design
This degree is one of the best of its kind, offered through the School of Business at Liberty University. This degree blends the evangelical mission of the college with the career-preparatory courses necessary for industry success. Students take in-depth courses in game design along with core coursework in information technology. Each candidate is required to complete an internship as well as additional courses in topics like 3D graphics design, critical thinking, and technical problem solving, and multiple programming languages. This school is one of the most transfer-friendly, allowing students to bring in up to 75 credit hours from other universities. Most students can graduate in around three and a half years, with all courses lasting about eight weeks.
Average Tuition & Fees: $19,648
Score: 100